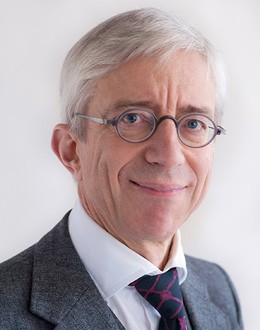 antoon.quaedvlieg@klos.nl
+ 31 6 46 011 264
Professor Antoon Quaedvlieg was educated at the Universities of Nijmegen and Poitiers. He earned his PhD with his highly acclaimed thesis on copyright and technical subject matter, for which he was awarded the prestigious J. C. Ruigrok prize of the Royal Dutch Society of Sciences in 1988. In addition to his work as a practising intellectual property attorney, Antoon has been a Professor of intellectual property law at the Radboud University of Nijmegen since 1990.
The emphasis in Antoon's practice is on advisory and litigation work in complex copyright and trade mark matters. Antoon has particularly broad knowledge and expertise in the areas of collecting societies, collective licensing and exploitation of copyright protected works, international copyright, the protection of product design through copyright, design right and tort law, colour and shape marks, data base law and competition law. Antoon is one of the most experienced litigators in intellectual property litigation before the Supreme Court and the European Court of Justice.
Antoon is in great demand for second opinions in complex intellectual property disputes as well as transactions.
Antoon is one of the most influential intellectual property experts in Europe. He is a prolific publicist on all intellectual property matters. He is member of the editorial board of the leading Dutch IP review 'BIE', of the comité éditorial international of Les Cahiers de la Propriété Intellectuelle and of the Bureau as well as the Executive Committee of the Association Littéraire et Artistique Internationale ALAI. He is a founding member of the Trademark Law Institute. He became a member of the Benelux Council for Intellectual Property in 2008 and of the Copyright Committee in 2010.
Publications
Auteursrecht op geklets, Quaedvlieg, A.A. (2015), in: Reyer Baas, Tetty Havinga, Miek Laemers en Hans den Tonkelaar (red.), Rechtspleging en rechtsbescherming. Liber amicorum voor Prof. Dr. Leny E. de Groot-van Leeuwen, Deventer: Wolters Kluwer 2015, p. 65-74
Fouteursrecht als zondebok voor innovadsigheid, en andere vermoeiende mythen, A.A. Quaedvlieg, AMI 2011. p. 60-63
Copyright and Perfume: Nose, Intellect and Industry, A.A. Quaedvlieg, Revue internationale du droit d'auteur. 230 (2011), p. 7-77
Copyright's Orbit Round Private -, Commercial - and Economic Law, A.A. Quaedvlieg, 29 IIC 420 (1998)